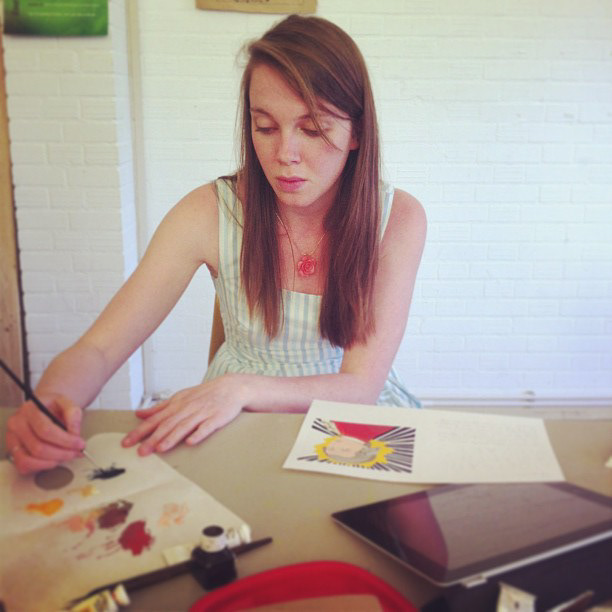 My name is Anke Knapper and I'm a freelance illustrator. I make (moving) illustrations and draw stories about everyday subjects and experiences. I like food, mysteries, science, history, books, nature, traveling, taboos and every other subject you would like an illustration for. Usually I work with gouache on paper, sometimes I use a stenciling technique. I was born in Assen, a small town in the Netherlands, on the 24th of June 1990. Now I live and work in The Hague near the sea.
For commissions, questions or to say hello, please get in touch:
De Volkskrant, Unilever, Lowlands, Flow, Federation of Dutch Grocery and Food Industry (FNLI), J/M, publisher Sestra/Jongbloed, The South is Blooming (shop), 
Evangelische Omroep (Public Service Broadcasting), HanzeMag, Oranjewoud festival, Nederlands Dagblad, Hard/hoofd, CineTree (Dutch video on demand platform), Elle Decoration, Elle eten (food), Vereniging Openbare Scholen (Society Public Schools), Nederland Voedselland,  Pan Macmillan and CPNB.
BFA, Minerva Art Academy, Groningen, NL, 2010-2014
Internship with artist ATAK (Georg Barber), Berlin, DE, 2014
Fontanel Young Talent, 2014
Nominated for the Academy Minerva Prize for Design, 2014
Incubator by Hans Lijklema, Timof, Warschau, PL, 2017
Dutch Design Talents 14, Mendo & Fontanel, Amsterdam, NL, 2015
De eerste keer, Groningen, NL, 2014
ONLINE FEATURES & INTERVIEWS:
Books of Voluptas, Galerie H200, Groningen, NL, November 2018
After Minerva, group exhibition, Groningen, NL, 2017-2019
In concept 2 'Zoals je naar me kijkt' (A Happy Family), The Hague, NL, 2015/2016
Illustratie 57, Groningen, NL, May 2015
Pit, Groningen, NL, July/August 2014
Graduation exhibition, Groningen, NL, July 2014
Illustratie 57, Groningen, NL, May 2014
Fumetto competition exhibition, Luzern, CH, April 2014
De stripfabriek, Groningen, NL, 2013
Illustratie 57, Groningen,NL, May 2013
Guest teacher workshop color, Minerva Academy of Arts, 2016
External adviser, HKU (University of Arts Utrecht), 2015
Talk about own work, Adobe & Fontanel, 2015
Guest teacher at a project week, Minerva Academy of Arts, 2015
Lecture about own work, Minerva Academy of Arts, 2014
​​​​​​​